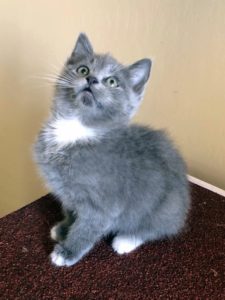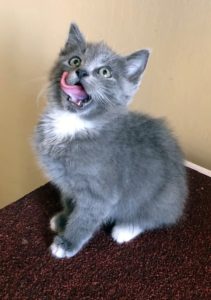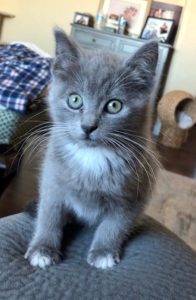 Bailee, is just too little at the moment 4/4/2020, to be spayed, but she can be pre-adopted site unseen. She needs to put on about 12oz to be fully vetted. Which includes, spay, chip, negative snap test, rabies and FVRCP vaccines. You can not bring them home until they are fully vetted. Could be two-three weeks…?
If you are interested in adopting this baby, please submit an application for cat adoption at, www.fupilv.org. His adopt fee is $150.00.
This is 12 week old short- haired Bailee. She is a stunning little bundle of joy. She is almost all gray with just a tad of white on her chest and paws. She is an independent kitty and loves to explore. She is often found tucked away in a comfy sleeping spot taking her daily snooze. She has a good amount of energy and loves playing with her toys.