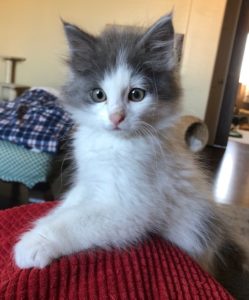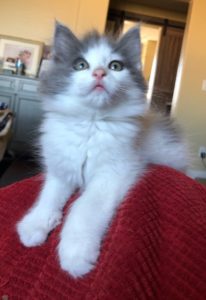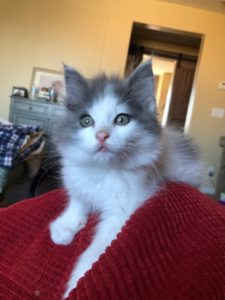 Bradlee, is just too little at the moment 4/4/2020, to be neutered, but he can be pre-adopted site unseen. He needs to put on about 12oz to be fully vetted. Which includes, neuter, chip, negative snap test, rabies and FVRCP vaccines. You can not bring them home until they are fully vetted, could be a few weeks, just depends on how quickly they gain weight.
If you are interested in adopting this baby, please submit an application for cat adoption at, www.fupilv.org. His adopt fee is $150.00.
This is 12 week old long- haired Bradlee. He is a handsome boy and he knows it. He loves to eat and has a good appetite but can be picky at times with his soft food. He will carry soft cat toys in his mouth and can get quite protective over them at times. He is a mommas boy and loves to be around his human companion. He's a big cuddle bug and will fall asleep on your lap.