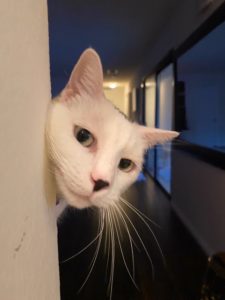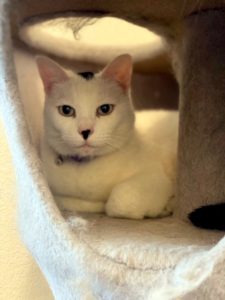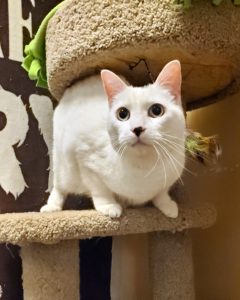 My name is Butterfly I am an 8year old female. DSH white with a black coat. I look like I am wearing a hairpiece but really it is just my coloring. Now that I pointed it out that will probably always be in your mind. That is okay, it makes me very unique. I was adopted 8 years ago in California. I was recently dumped and found myself on the street with no knowledge of how to take care of myself. Thank goodness for rescues I am once again safe and able to find my forever home.
Update from her foster:
Butterfly is a extremely sweet and loving cat. She adapts easily and likes other cats and small dogs even when they aren't that thrilled with her. She's happy to be held and snuggle with anyone who will allow her. She even gives little kitty kisses if she's in a particularly happy mood. Her favorite thing to do is eat, when she knows it's dinner time she cries and then runs to her bowl to wait for food. Most of her day is spent lounging, but she does get a little mischievous and likes to get into small spaces and on top of cabinets. Overall she would make a fantastic addition to any home and she's a very well adapted beautiful cat.
If you are interested in adopting me, please fill out an adoption application at: www.fupilvorg my adopt fee is $80.00.