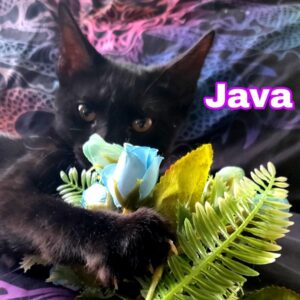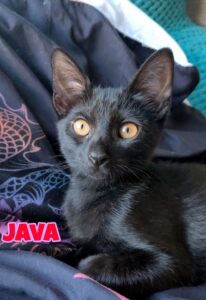 Our kitty's go home, spayed/neutered, chipped, vaccinated, snap tested and fixed. The adopt fee is $175.00, if you are interested, step one is to submit an application by following this link: https://forecloseduponpets.org/cat-adoption-application/
My name is Java and I am a girl. My foster mommy says I am the peacemaker and caretaker. I protect all my siblings, especially my little brother Loki.
I find feather toys, plastic spiral toys, and fish-flavored foods delicious. I'm very active and am a fantastic jumper. That makes me the perfect little mini panther. I can be cuddly when I am not playing and sleeping. I love pets and butt scratches. My favorite thing in the world is my brothers and sisters, especially my brother Loki, although catnip comes a close second.