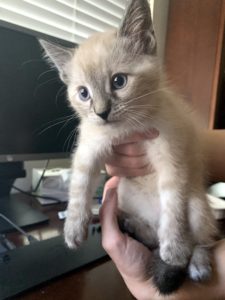 Meet Moonlight, the fluffiest little Siamese mix kitten.
Moonlight is a 2 month old female Siamese mix. Unlike her brother Smokies, she's lighter in color but still has beautiful blues eyes. She also has longer, softer fur. She tends to be a little shy with new humans but don't let that stop you as once she's comfortable she'll be following you everywhere. Moonlite was the first of her siblings to brave climbing up the kitty tree. She loves to play in the kitty tunnel and the chirping birdie on the stick is her favorite toy, well really anything that makes noise is her favorite. My adopt fee is $250.00
I am available for pre-adoption only, what does that mean? That means if your application gets approved you can come meet me and finalize the adoption. You can't take me home until I am fixed which will be on or about,June 10th-17th. To apply please fill out an application at: https://forecloseduponpets.org/cat-adoption-application/
All of our cats come fully vetted. Shots/chip/snap test/fixed.