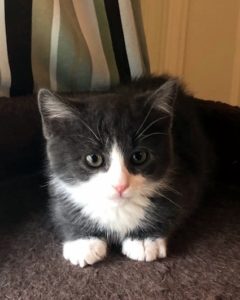 This kitten is available to pre-adopt only. You may fill out an application at www.fupilv.org if you are interested. Once you receive an approval, a meet and greet will be scheduled with the foster, you must wear a mask to enter her home. The adopt fee is $150.00 which will be collected at the time of the meet and greet should you decided to adopt. It will be about three weeks until you can bring your kitten home.
The kitten will be snap tested, vaccinated, spayed/neutered and chipped on or about 12 weeks of age.
This is 9 week old Remi. He is a stunning looking kitten with his gray mask and white paws. He loves to play with his siblings. He has a good amount of energy and will dash after his toys. He was rescued along with his siblings from a drain area underneath a downtown building. He's very happy to be living life indoors.