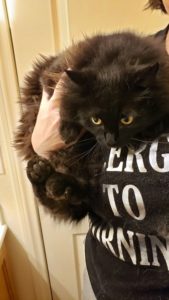 Wintergreen
Neutered Male – 1 year
Domestic Medium Hair – Black
My name is Wintergreen. I am a little on the shy side at first but doesn't take me long to find my inner cat. Yes, I am guilty of climbing on the bathroom counters. What do you want from me you can see so much of your surroundings from up there. Anyway I'm the type of cat that will sit on your legs for hours and watch TV. That's until I get bored and decide there may be something in the other room for me to check out. I am litter box trained, love being brushed and eat both wet and dry food. Cats are fine with me dogs unknown. His adopt fee is $80.00.